(Français suite)
Goal: Produce Standard Poodles who will be an asset to the future of the breed in every way.
How: By doing everything in my power to produce pups with stable temperaments, excellent health, correct structure and genetic diversity. I research extensively, use genetic testing to my advantage, and intensively socialize to proof my pups. Puppies have natural tails and dewclaws (for more info, please see the links page), are micro-chipped and CKC registered. I follow Dr. Jean Dodds Vaccine protocol. Being interested in life-long learning, my practices as a breeder have evolved along with new findings in research.
Visitors are always welcomed in person (or video-call). It's a great way for us to socialize puppies and practice obedience and therapy training. It's important to know that I do NOT run a kennel but rather I am a very selective breeder who occasionally has puppies born and raised in my suburban home. All the dogs who contribute to my breeding program who do not live with me have been my companions as puppies until they found the perfect guardian or co-owner home.
I am in this for the long term betterment of my beloved breed: it's a passion for me. There are loads of photos and regular updates on my Facebook page. You may enjoy looking at my videos on my youtube channel.
My dogs and I are members of Caring Paws Animal Therapy & Imagine Therapy Dogs Member in good-standing with the following clubs: The Canadian Kennel Club, The Poodle Club Of Canada, The Ottawa Valley Poodle Club, Versatility in Poodles, Lakeshore Dog Training Association, Club Agilité Canin de St Lazare & Club Equestre Les Forestieres .
Please research this purchase as you would any big ticket item. You will have this pup longer than your car!  If you don't do anything else but do decide on a poodle: please, please, please refer to the breeder evaluation tools prepared by the wonderful volunteers at Versatility in Poodles. At VIP you will find all the tools you need to educate yourself.
Thank you, L.K. Glickman MEd BFA DipEd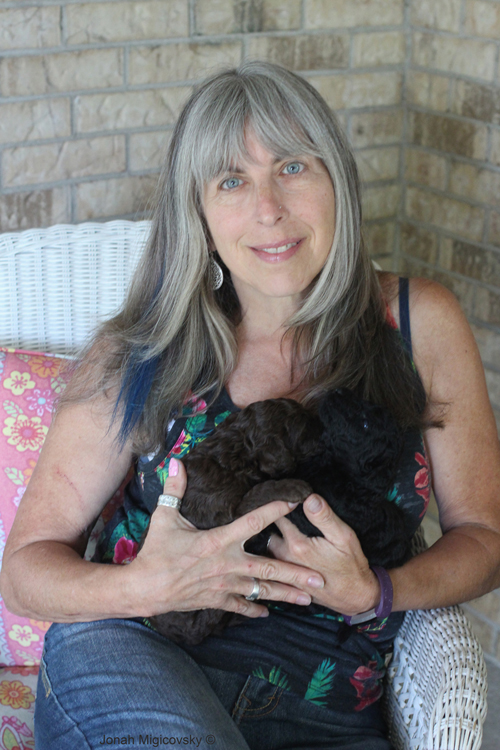 QUI SOMMES NOUS?
Nous sommes un élevage familial tres selectif situé dans la banlieu ouest de Montréal.
But: Produire des caniches standards qui seront un atout pour l'avenir de la race dans tous les sens.
Comment? En faisant tout ce qui est en mon pouvoir pour produire des chiots avec des tempéraments stables, excellente santé, structure correcte et diversité génétique. Je fais des recherches approfondies, j'utilise les tests génétiques à mon avantage, et je socialise intensivement mes chiots. Les chiots ont des queues naturelles et des ergots (pour plus d'informations, s'il vous plaît voir la page des liens), il sont micropucés et enregistrés au CCC. Comme nous apprenons tout au long de notre vie, mes pratiques d'éleveur on évoluer parallèlement aux nouvelles découvertes faites dans divers recherches.
Les visiteurs sont toujours accueillis en personne (ou vidéo-appel). C'est une excellente façon de socialiser les chiots, de pratiquer l'obéissance et la formation thérapeutique. Il est important de savoir que je ne suis pas un chenil mais plutôt un éleveur éthique. Les chiots sont nés et élevés dans ma maison. Les chiens faisant partie de mon programme d'élevage mais ne vivant pas chez moi sont en co-propriété avec mes familles d'accueil.
C'est une passion pour moi. Vous pouvez voir des photos sur ma page Facebook Glicks Lisa Kimberly) et des vidéos sur ma chaine Youtube (lkglickman). Celles-ci sont misent à jour régulièrement.
Nous sommes membre du: Imagine Therapy Dogs, Pattes Humanitaires, Club Canin Canadien, Poodle Club Of  Canada, Versatility in Poodles, Ottawa Valley Poodle Club, Lakeshore Dog Training Association, Club Agilité Canin de St Lazare & Club Equestre Les Forestieres . Nos chiens vivent parmis nous dans la maison et partagent notre quotidien. Tous nos reproducteurs sont testés contre les maladies héréditaires (verifiable sur le site OFFA) enregistrés au CKC ou UKC et champion canadien.

S'il vous plaît recherche cet achat comme vous le feriez un gros article – car vous aurez ce chiot plus longtemps que votre voiture! Si vous ne faites rien d'autre que de décider d'un caniche: s'il vous plaît, s'il vous plaît, s'il vous plaît référer aux outils d'évaluation préparé par les bénévoles merveilleux chez VIP. Vous aller trouverez tous les outils dont vous avez besoin pour vous éduquer.
Mais qu'est-ce qu'un éleveur éthique ?
merci sincerement,  L.K. Glickman MEd, BFA, DipEd